---
Share it!


KEYNOTES
---
SECON 2012 will feature two exciting keynote speakers. Information about each speaker is listed below.



Yoonchae Cheong, PhD
Senior Vice President, Samsung Electronics Co. (SEC)

Title: Digital Space Expansion through Smartphone

Abstract: When the communication technology is expanded to the ambient space to interconnect with wider range of resources and information, the physical space will be merged with the "digital space" through the smart devices. Ambient smart devices such as sensors, actuators and controllers are emerging to be used in environmental sensing, healthcare, smart home and community applications, etc. We expect that the smart phone, the most popular and familiar device of mobile IT, will lead this great change. Those ambient devices used to be with their own gateways and networks, but are converging into the ecosystem based on the smart phone. This would require new paradigm of communication technology in terms of new devices with ultra low power consumption, connectivity technology and networking protocols. Eventually, users will experience revolutionary changes with uncharted capabilities of the digital space, in which the ambient network would evolve to the Internet of Things (IoT).

Bio: Yoonchae Cheong is currently working in SAIT (Samsung Advanced Institute of Technology: Central R&D of SEC) as a Lab Head for Signal Processing and System Technology. His research interests focus on future communication technology and signal processing, biomedical signal processing for emerging medical systems, and connected healthcare technology and systems. Dr. Cheong obtained his BS and MS degrees from Seoul National University and his PhD from Texas A&M University.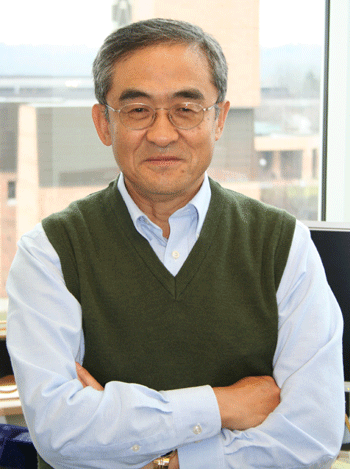 Kang Shin, PhD
Professor of Computer Science, The University of Michigan.

Title: Is Dynamic Spectrum Access a Blessing or Curse?

Abstract: Dynamic Spectrum Access (DSA), along with heterogeneous networks, can mitigate the impending spectrum scarcity problem, caused by rapidly increasing mobile users/devices, applications and services. This problem can be mitigated by improving spectrum utilization efficiency -- via opportunistic spectrum access -- with advances in software radio technology and trends of spectrum deregulation. In DSA networks, secondary users (SUs) or cognitive radio (CR) devices are allowed to opportunistically access legacy users' spectrum bands in time, frequency and space domains without compromising primary users' quality of communications. DSA can be a blessing only if its use is secured. DSA could be a curse because it can hurt legacy users' communications and services if exercised inappropriately, which is also a major reason for legacy service providers' reluctance in opening up their spectrum for SUs' opportunistic use. In this talk, I will describe DSA vision, identify security as a main challenge in realizing DSA, and discuss recent research efforts in secure spectrum sensing mechanisms in DSA networks. By enabling secure spectrum sensing, legacy users can share their unused portion of spectrum for opportunistic use with confidence, making DSA more realizable without becoming mayhem to legacy users.
This talk draws heavily from Alex Min's PhD thesis research at the University of Michigan.

Bio: Kang Shin is the Kevin and Nancy O'Connor Professor of Computer Science, and the Founding Director of the Real-Time Computing Laboratory (RTCL) in the Electrical Engineering and Computer Science Department at The University of Michigan. He is currently leading several major research projects in the areas listed below, applying their results to real-life applications, and educating students and industry engineers.
Wireless networking, including cognitive radio networks, wireless mesh networks, and LANs/WANs.
Computation and network security, including botnets, self-securing mobile handsets, malware classification, and application protection in untrusted environments.
Cyber-physical systems by integrating real-time embedded applications and system SW with real-life physical systems like ground and space vehicles; low-power embedded real-time OS, middleware, and networks.
Virtualization-based server consolidation and resource management for large-scale Internet servers and storage systems with emphasis on performance and reliability.
---
Gold patron:
---
Silver patron:

---